You may find designing your room and most parts of your home relaxing—fun, even—but with the kids' room, it's an entirely different matter. Kids' tastes are often unpredictable, and there would be times when they are not even sure of how they want their room to look like. 
Swapping their favorite characters, colors, and motifs could be as quick as outgrowing their uniforms, but top interior designers in Singapore have some tips on how you can decorate your children's room without costing their entire college fund.
Have Fun with Wall Decals
Top interior designers recommend peel-and-stick decals as a great way to adorn your child's bedroom without the long-term commitment, especially if you rent and you can't do major renovations like repainting the walls. Use them as a part of your motif or just to add an extra splash of fun on bare, white walls. You can let the kids choose the style and the spot where the decals will be placed. 
Decals aren't limited to just walls; they can be attached to any flat surfaces like dressers, mirrors, and doors for an inexpensive and practical way to spruce up the look of the room.
As your children grow older, or simply want a new design, it's easy to peel off the decals and swap them with something else. There is a huge array of designs available that are sure to create a focal point in the room, or a good backdrop for an evolving theme. 
Get Down with Rugs
If your children's room has hard floors or if you want to brighten up a plainly carpeted floor, layer a rug on top. Short pile or flat weave rugs are easiest to keep clean, and wool is soft and durable. Whichever kind of rug you choose, though, it is essential to ensure that it isn't going to slip and cause accidents. 
Children's room rugs come in a variety of colors and designs, from brightly patterned through block-colored rugs that won't collide with the wallpaper pattern or decals.   
Set Up a Comfy Study Zone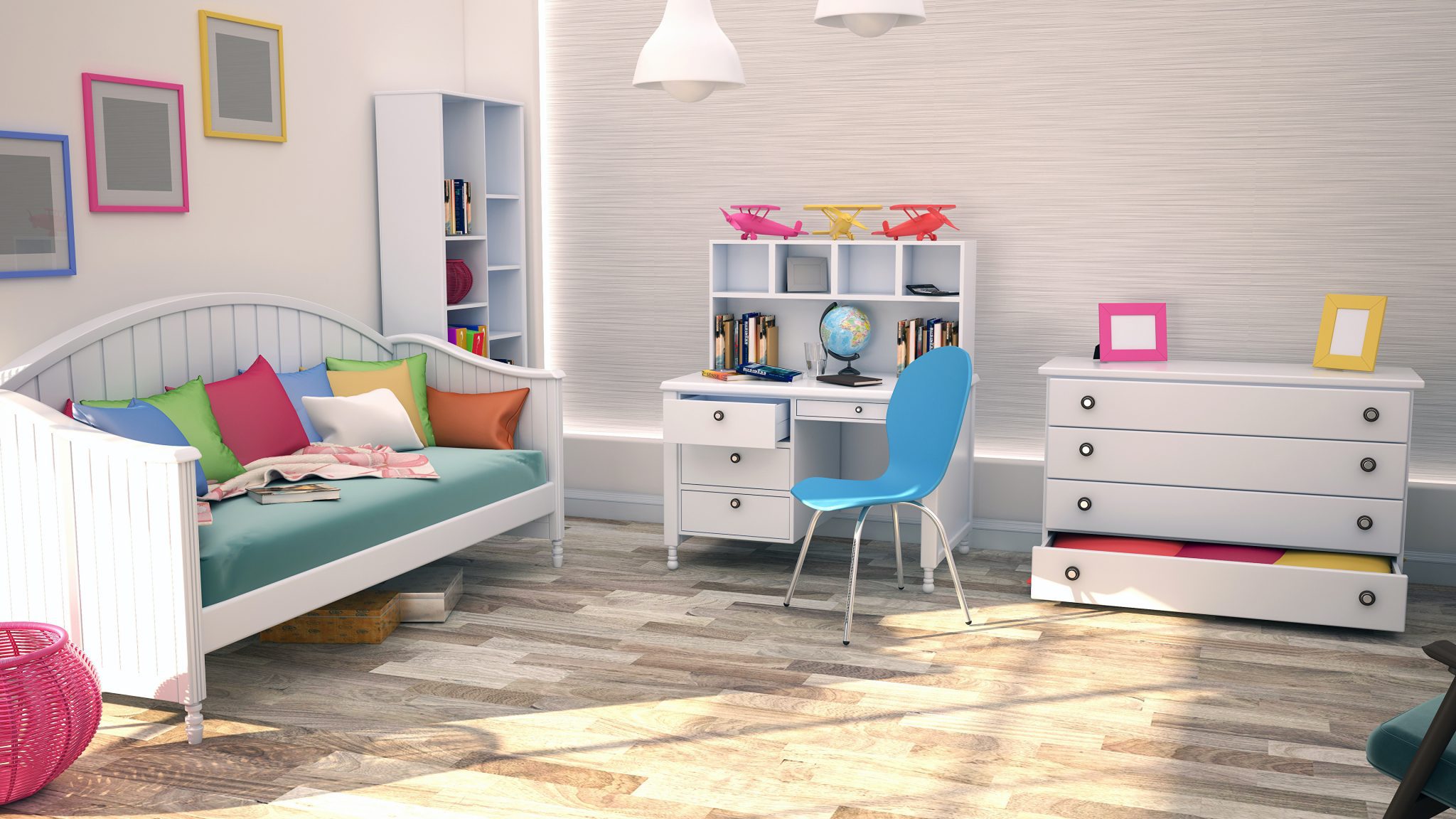 Once your children reach school age, they would need a separate area in their room for studying and doing their homework. You don't need to shell out a lot of money or choose elaborate pieces; comfy is much better, especially for much-needed relaxation and downtime after a long day in school. 
Organize with Open Shelves
Young kids and mess go together like Starsky and Hutch, but you can help them clean up after playtime by providing them with plenty of open shelves with baskets and holders to keep their toys and games in. This does not only make their favorite things easily accessible to them, but it also trains them to be organized. 
Maximize Space
The same principle in tiny houses and small office solutions also applies in decorating your kids' room: maximize space. You can free up more floor space by pushing their bed against the wall. By minimizing open spaces around the sleeping area, it also cuts down your children's fear of monsters lurking under the bed. An even better option would be a bed frame with drawers underneath—more storage space and no monster would be able to fit there. 
Shared, but Separate
For shared rooms, you can ward off potential bickering or past-bedtime chatters by using a divider. A bookcase, dresser, or shelves  between the beds will make each kid feel a sense of individuality in his or her own space. 
Childhood is a swift phase in your children's lives—they'll be all grown up before you know it. Take their room renovation as an opportunity to know them better, as well as bond and have fun with them. Don't sweat the trivial stuff and make sure that they have a say on the motif and furnishings. Allow their creativity to flow, and let their room be an expression of who they are.